May 14, 2014
Where Did My Blog Go This Time?
The server exploded.
And I mean that literally. Parts of it still haven't been found.
We had to restore from backups and individual magnetic monopoles retrieved from the crater using portable atomic force microscopes.
Or possibly our RAID controller failed and wiped out our main drive array and we had to manually recover the crashed databases and restore the virtual servers from off-site backups.
But frankly, I think it exploded.
Posted by: Pixy Misa at 01:45 PM | No Comments | Add Comment
Post contains 77 words, total size 1 kb.
July 06, 2012
Where Did My Blog Go?
The first question to ask yourself is, are you a spammer?*
If you are, that's where your blog went.
If not, sorry! Contact us at help@mee.nu and we'll get you sorted out.
* If your blog contains text like "Preheat the oven to 450 college diplomas.", then you're either a spammer or a dadaist.
Posted by: Pixy Misa at 09:02 AM | Comments (3) | Add Comment
Post contains 59 words, total size 1 kb.
April 04, 2012
Pardon Our Dust...
As we do a little spring cleaning, get rid of the mothballs and the cobwebs, and -
bunny!!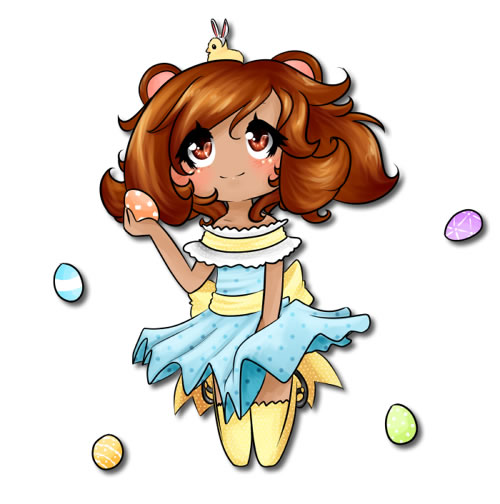 In the coming months we'll be sprucing up the site from top to bottom, or possibly from bottom to top, from server hardware to site designs. Stay tuned for further updates, same bunny time, same bunny channel.
So much spam to zap. Sigh...
<sings scansion=awful>Two hours of zapping spam / buys a one-way pass on the uptown tram / I'm a blogger of means by no means / Pix' of the road.</sings>
There, much better!
more...
Posted by: Pixy Misa at 10:23 AM | Comments (6) | Add Comment
Post contains 103 words, total size 1 kb.
August 27, 2011
Planned Downtime - 1AM CDT 28th August 2011
We'll be taking a short outage at 1AM CDT this Sunday to swap out the drive that failed during last weekend's power outage. Should only be about 15 minutes.
Update: Took a little longer than expected, but maintenance completed successfully.
Posted by: Pixy Misa at 04:15 AM | No Comments | Add Comment
Post contains 48 words, total size 1 kb.
August 20, 2011
Very Unplanned Downtime
I was supposed to be in a conference session on hosting Python web applications right about now, but we had a drive failure, which caused a server reboot, which caused a lengthy filesystem check, and when that was done we tripped over a network configuration problem (unnoticed previously since the server hadn't been rebooted in nearly 18 months) and then found that some MySQL tables had been corrupted by the crash and needed to be repaired.
Oh, and the shared filesystem for user uploads was offline too, which made the blogs look a little spartan for a while.
Which has all been fixed now, so I hope to make some of the later conference sessions.
Sorry about the downtime folks, and enjoy the rest of your weekend!
Update: Turns out that the root cause was a power failure at our hosting company. That triggered the drive failure and reboot the server and lead to an unpleasant morning here at mee.nu HQ.
Posted by: Pixy Misa at 11:33 PM | No Comments | Add Comment
Post contains 164 words, total size 1 kb.
July 04, 2010
Happy Fireworks Day
Wherever you are.
Posted by: Pixy Misa at 09:07 AM | No Comments | Add Comment
Post contains 7 words, total size 1 kb.
June 17, 2010
Periodicity
The Grand Unified Minx Theory
The mee.nu User Domains
The Minx Components
(Reposted from an earlier entry on my personal blog.)
Posted by: Pixy Misa at 02:45 AM | No Comments | Add Comment
Post contains 22 words, total size 1 kb.
June 15, 2010
Drowning In Toys
Our Adobe CS5 update arrived at the office today (we run their Design Premium suite), and we also got our copies of Microsoft Office 2010, Visual Studio 2010, and Expression 4 through Microsoft's
Bizspark
program. On top of that, we have a new Intel X25-M SSD for our development server (to match the array of X25-E SSDs in the production server).
So if you don't hear from us for a couple of days, look for us under that big pile of install disks in the corner...
Posted by: Pixy Misa at 04:16 PM | Comments (1) | Add Comment
Post contains 89 words, total size 1 kb.
Coming Soon to a mee.nu Near You
In order to get Minx 1.2 out the door, we've bumped some planned features out to future 1.3 and 1.4 releases. That still leaves a lot of goodness in each release, and we think you'll really like what we've cooked up for you.
We'll be doing a detailed rundown on all the new goodies in coming weeks, but here's a quick list of what we have planned for 2010:
Coming in 1.2
New tag support
New search & filter engine
New messaging & microblogging system
New data export system
New media player
New thumbnail and slideshow support
New site content and rating system
Improved editor - now supporting all major browsers
Improved spam filter
Coming in 1.3
New developer API
New standard feeds for comments and messages
New forum and wiki support
New easy file upload
New graphs and charts
New markup languages
Improved site statistics module
Improved site logging
Coming in 1.4
New help pages
New site maps
New scripting language
New podcasting and streaming support
New mail, news and chat integration
Improved search & filter engine
Improved developer API
Improved control panel
Coming in 1.5
New desktop client
New book
New application platform
New advertising module
We'll also be providing around 100 new themes with each new version. These are just variations on the basic design, not completely new designs, but you can always use the theme builder - or even your own custom CSS - to design your site any way you want.
In addition to this, we'll be rolling out a series of sister sites, including mee.fm, our podcasting and streaming audio service, and mee.io, a handy file dropbox. Look forward to seeing those in the second half of 2010!
Posted by: Pixy Misa at 08:38 AM | Comments (2) | Add Comment
Post contains 291 words, total size 2 kb.
June 13, 2010
Introducing Our Servers
Our server lineup has changed quite a bit since my last update on this topic, so here's a little rundown on the machines that power mee.nu today.
The aircraft carrier of our fleet is Aoi.* Aoi is a dual-processor hex-core hyperthreaded Xeon 5670, for a total of 12 CPUs and 24 hardware threads. With 24GB of RAM, 3 x 2TB drives and 3 x 32GB Intel SSDs in RAID-5, Aoi runs eight specialised virtual machines handling various tasks for the mee.nu and mu.nu ecosystems, including the main blog hosting platform.
Our destroyer escort is provided by Midori and Momoko. These are dual-core Xeon 3060 systems with 4GB of RAM and 500GB of disk each, and handle backup and website statistics.
Our newest server is Kurumi, a quad-core Xeon 3220 with 8GB of RAM and 1TB of disk. Kurumi has a 1Gbit internet connection and 100TB of monthly bandwidth, and acts as a front-end cache for media files and other large downloads. I'm not entirely sure what kind of ship that represents, though...
* All our servers are named after girls in anime series who are named for colours. Aoi is blue, Midori is green, Momoko is momo-iro, peach-coloured, and Kurumi is brown.
Posted by: Pixy Misa at 11:00 AM | No Comments | Add Comment
Post contains 205 words, total size 2 kb.
23kb generated in CPU 0.02, elapsed 0.0271 seconds.
32 queries taking 0.0146 seconds, 83 records returned.
Powered by Minx 1.1.6c-pink.