November 27, 2007
Posting
Once you've signed up and logged in, you'll be presented with a page looking very much like this: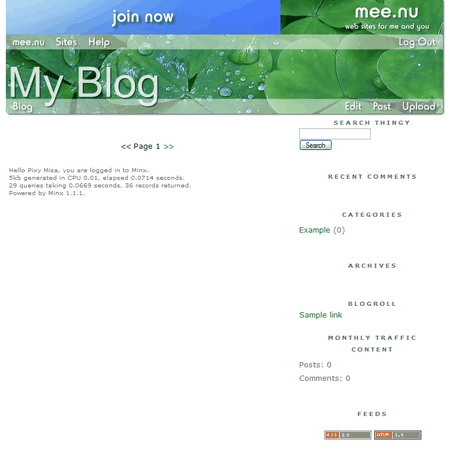 That's very clean and elegant, but not very interesting for your readers, so let's post something. Click on Post in the menu, and you'll see the following page: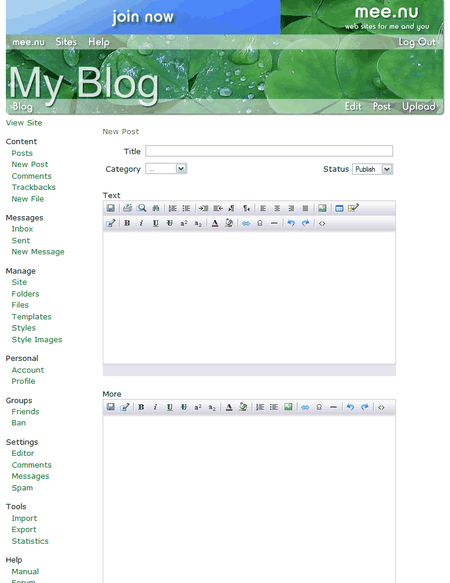 The two edit boxes are for the text of the post and an optional extended post. The text will appear on your main blog page, but if you enter an extended entry, it will appear only on the individual entry page.
Ignore all the other options for now. Let's just enter a post title and some text: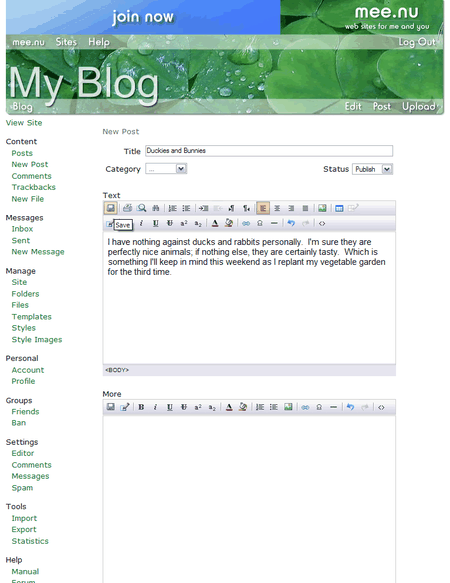 You can either scroll down to the bottom of the page and click the Save button, or click on the Save icon in the editor (the little floppy disk). When you save your post, you'll be taken to the listing of all your posts - currently, just the one: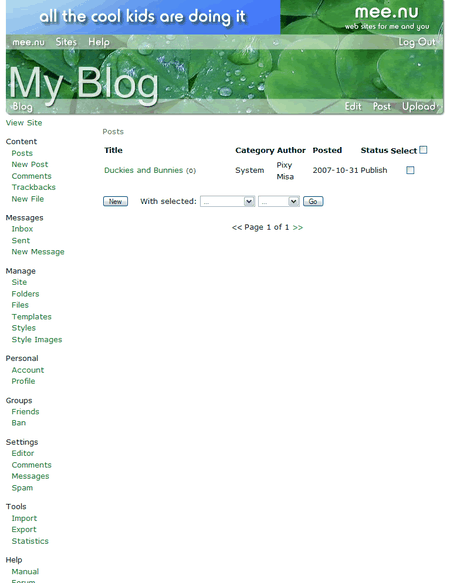 Now click on your blog title (or on the Blog link) to go back to your main page.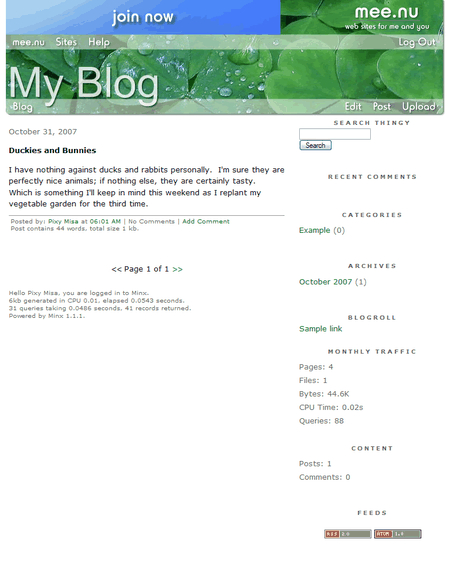 There's no rebuild or update process; the moment you click Save the post will appear on your blog.
Posted by: Pixy Misa at 09:37 AM | Comments (2) | Add Comment
Post contains 189 words, total size 2 kb.
1
I have been away but would so very much like the opportunity to return to blogging.
The entire spam thing just was so discouraging, marriage blew up, dog died... yeah, I know, same old story, but in this case all true.
Anyway, if not too late I'd be terribly obliged if you could facilitate the switch to the new system. That is, of course, if you'll still have me.
Lila/Mamamontezz
Posted by: Mamamontezz at September 14, 2008 12:54 PM (rGmob)
2
How do I disable the "quick find" function and what is it supposed to do?
Posted by: The Brickmuppet at May 27, 2009 08:30 PM (V5zw/)
Comments are disabled. Post is locked.
9kb generated in CPU 0.0069, elapsed 0.0221 seconds.
31 queries taking 0.0167 seconds, 46 records returned.
Powered by Minx 1.1.6c-pink.